Teaching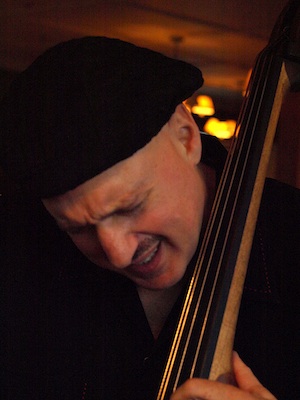 Harvie S is available for master classes, workshops, concerts, bass lessons and seminars at learning institutes. If you are interested please email Harvie S at harvies@harvies.com.
Harvie S has been the bass and ensemble instructor at the Manhattan School of Music since 1984. Many of todays top bassists have studied with him (see list below).
8 Duets from the Know Thy Bass Series is a fun learning tool for intermediate and advanced bassists. You can read more and aquire them on the on the Store page.
Harvie just returned from the University of Tennesee where he gave private lessons, master classes in Jazz and Afro-Cuban music, and performed as a soloist with the big Band, Studio orchestra and faculty (read testimonial by bassist and professor Rusty Holloway below).
Recently Witchcraft (Harvie S with Kenny Barron) rose to number #1 on the Jazz Week national charts and as of April 24 is still in the top 10. Witchcraft is entering its third month on the national charts.
Harvie is also giving private lessons in his home and for those who live far away He has been giving lessons on skype. If you are interested please email him at harvies@harvies.com and set up a lesson.
Please check out Harvie's videos at Mike's Master Classes
---
Student list at MSM
Drew Gress, Todd Coolman, Thomas Morgan, John Benitez, Zack Lober, Steve Kirby, Catherine Popper, Hans Glawischnig, Eddie Khaimovich, Pepe Berns, Matej Hotko, Jennifer Vincent, Marco Panascia, Carlo DeRosa, Sean Smith, Gregory Ryan, Michael Olatuja, Joe Fitzgerald, and Desmond White.
---
A testimonial from a professor at a University where Harvie S was a guest artist:
Recently I had the great privilege of hosting Harvie S for several days here at the University of Tennessee…while here, Harvie gave a terrific masterclass dealing with Latin music and its development as well as coaching student ensembles…His approach is refreshingly straightforward in that he is very direct about the challenges and the remedies…
While here he taught a number of private lessons which were largely directed at the development of basic skills, such as line building. His energy and positive approach enabled everyone to progress very quickly and to become aware of weaknesses in their accompaniment abilities…
Harvie soloed with the Studio Orchestra, the Jazz Band as well as the faculty and made an amazing solo performance….the concert was a great success…critically acclaimed….
Harvie is and has always been one of the very best bassists on the planet…his duo playing, as well as his legendary work with vocalist Sheila Jordan continues to separate him from most other bassists in his overall skill and musicality…
Harvie is a legend and is a timely addition to any music program where there are students desiring a career as a professional player.
Harvie redefines what is exactly required and at what level…he is honest, direct and supportive…and leaves behind results…
Sincerely,
Rusty Holloway, University of Tennesee Jazz dept