Press
Plucky Strum
New York City Jazz Record April 2015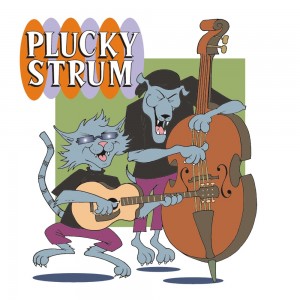 There's no place to hide in a duet setting. Place-holding beneath the melody is insufficient and each player must keep the harmonic wheels moving fluidly to avoid repetition. The engaging synergy that bassist Harvie S and guitarist Sheryl Bailey have on Plucky Strum is a splendid antidote to stagnant sound.
All of these splendid original tunes are played acoustically, which gives them an elemental feeling. But plainness doesn't mean simplicity, as shown from the top on the dynamic "Woods Talk". S and Bailey trade off on the melody and harmony deftly, the latter with a clear, strong tonality, flavoring her chords with mandolin-like riffs, while the former's vibrant and robust plucking showing why he's a treasure on the bass. Bailey continues her light touch and crisp textures while S' cool harmonics and swift glissandi ignite the toe-tapping "Bluzin' F", a swinging blues, and "Saint Nick", a straightahead bop tune. The bassist offers grousing plucked notes on the lovely folk ballad "Charlie Haden", a heartfelt elegy to the departed bassist. The way he lengthens notes across measures is impressive and underscores his mastery.
The pair delve into other genres as well, adding a couple of waltzes to the mix. Bailey plays with an almost matter-of-fact grace and eloquence on the ruminative "Ghost Dancer" and S' resonant bowing and teardrop plucking highlight the gem "For Jimmy", arguably his best playing here, which says a lot. The duo moves to a different clime for a pair of sambas. "Broken Glass" is a ruminative slow dance where the mood, rhythm and vocal quality of Bailey's single-note lines conjure up images of the sensual singing of Antonio Carlos Jobim over warm Brazilian breezes. The vibe becomes more jovial on the upbeat "To Bea".
The final tune, "Before", begins in shadow, with somber bass plucking; when guitar joins in, the song moves into the light and these two wonderful musicians bring this delightful album to a heartwarming end.
---
Harvie S with Kenny Barron: Witchcraft
By George Kanzler
NYC Jazz Record, April 2013
Bassist Harvie S, who debuted in a leader role at Savant in 2008 with a duo album, Now Was the Time, featuring Kenny Barron on piano, reprises that combo on his latest Savant CD. In the notes he remembers that back in the '70s-80s, when there was a cabaret law in New York City restricting horns and drums in many music venues, duos consisting of pianists and bassists were common and S (Swartz back then) spent more than half of every year playing in them. 2010 NEA Jazz Master Barron was one his partners back in those days and the two produce a balanced duo collaboration, not just a piano-with-bass-accompaniment session, on this indelible album. The bassist presents a notably unclichéd repertoire, ranging from Rudy Vallee to Stevie Wonder, on an album as notable for its clarion fidelity – Barron's piano has rarely sounded better, ditto S' bass – as its sterling jazz interpretations.
"Autumn Nocturne", a Sonny Rollins favorite, kicks off the proceedings, S plucking the melody and soloing before dropping into walking mode for Barron's lead. The pianist demonstrates his articulate delineation of bebop lines on Vallee's "Deep Night", reimagined in an homage to bop pianist Sonny Clark's take on the old tune. Wonder's "Creepin'" is developed from its harmonies upward to the melody, bass and piano exchanging leads, generating vamps and creating a duo equivalent of an R'n'B band arrangement. A Deodato tune, "Juan's Theme", is limned by bowed bass, the sultry mood revved up to swing tempo during Barron's solo.
Both musicians are fond of playing Brazilian tunes so "Rio" and Barron's "Sonia Braga" dig into samba and bossa feels, respectively. The bassist's "Until Tomorrow" is, surprisingly, a showcase for the pianist's transcendentally flowing ideas in a solo that simply dazzles. But the album's pièce de résistance is Duke Ellington's "Wig Wise", a tune from the Money Jungle sessions with Charles Mingus and Max Roach 50 years ago. Like the performance on that classic session, S and Barron defy conventions, all the while channeling the spirits of their respective muses. It's one of the most eventful four minutes you're likely to hear on a jazz album this year.
More Reviews for Witchcraft:
CriticalJazz.com
A Jazz Listener's Thoughts Blog
E-Music.com
---
Harvie S: Funky Cha
By Todd S. Jenkins
AllAboutJazz.com, May 2006
Harvie S's inimitable, fearless and fun-filled approach to Latin jazz reaches a new pinnacle on Funky Cha. The bassist's musical sensibilities couldn't be summed up better than on the opening track, a re-visioning of Monk's "Rhythm-A-Ning. His bass and Daniel Kelly's piano pulse out Thelonian arhythmic fragments over Beaver Bausch's tappy drum groove, building in quirky intensity until we're jumping to find out where they're going with it. Jay Collins, the final piece of the puzzle, leaps in with the melody on tenor and reveals how nicely everything fits together.
This kind of hand-in-glove development has characterized Harvie's brand of jazz over the past several years, demonstrating why he's not only one of the best bassists in the land but also one heck of a small-group conceptualist. His Latin beats are definably Latin but consistently fresh; there are no generic mercado rhythms here.
Much of that, of course, is due to the company S keeps. Kelly slides smoothly between montuno and bebop; Bausch is a subtle drum master, and the added presence of Chembo and Ernie Colon pushes him ever higher; Collins is always tasteful and flexible. Only Kelly and tenor man Scott Robert Avidon, who guests on three tracks, are carryovers from S's last album, Texas Rumba, yet the full band sounds as if it has been together for years. This is a hallmark of musicianship, and one of many reasons why Funky Cha is impressive.
Harvie loves Monk as much as Latin sounds, and the influences meld well on tunes like "A Bright Moment, one of the more pensive tracks (until things really get rolling). He recorded the tune earlier for New Beginning but sharply reinvents it for this session. The perfectly named title track, Kelly's gorgeous interpretation of "What Is This Thing Called Love, and the tense modernity of "'S' reflect different facets of this taut ensemble's personality. They even succeed at the difficult fusion of jazz and the manic guaracha rhythm on Kelly's "Earquake. Outstanding, as expected.
---
Harvie S: Texas Rumba
By Felix Contreras
Jazz Times, March 2005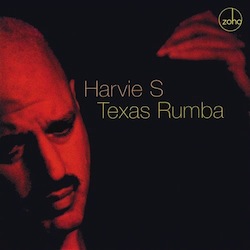 Harvie S (formerly Swartz) is proof that you can reinvent yourself. Along with losing the rest of his last name he seems to have lost his substantial history as a straightahead jazz bassist as well. But Harvie S's turn toward a strictly Afro-Cuban musical path is not as out of step as it would seem. His work with an impressive list of jazz's A-list (Dexter Gordon, Sheila Jordan, Grover Washington Jr.) was the best training ground for his second act. The best Afro-Cuban jazz bassists, like Bobbie Rodriguez (Machito, Tito Puente) and Andy Gon-zalez (Ft. Apache, Eddie Palmieri), not only locked down the slightly-off-the-beat tumbao, they were also jazzers at heart who brought jazz sensibilities to their groove.
The bassist's previous two discs marked his entry into Afro-Cuban music. Texas Rumba is a live workout of the core group he assembled to make those CDs: pianist Daniel Kelly, saxophonist Scott Robert Avidon, trumpeter Gregory Rivkin, drummer Adam Weber and conguero Renato Thoms. Like a handful of other groups, their music is played in clave but it is not slave to it. Percussionist Ray Barretto calls it "jazz-Latin," and that is an apt description of what Harvie S has achieved here.
While they start the CD with a couple of clave-inspired numbers, the highlights are later. Kelly's solo piano on "Momentaneo" segues to a decidedly non-Latin bass piano duet, then to a very tipico mambo, moving on to Harvie S's solo take of "Monk's Mood." The exploration "Underneath It All" dominates the middle section, and a solo bass piece ends the CD and is exactly the breather needed to assess the situation: Did we just hear jazz or Latin music? But like the best Latin-jazz bands out there, Texas Rumba makes that question moot.
---
Harvie S & Eye Contact: New Beginning
By John Davis
LatinJazzClub.com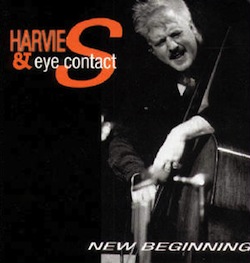 On his recent work titled "New Beginning", New York based musician, bassist Harvie S and his band Eye Contact offer one of the best examples of modern Latin Jazz which is rising to prominence within mainstream Jazz in the new Millennium. Harvie is no stranger to Jazz circles having performed on hundreds of recording as a sideman and over two dozen recordings as a co-leader with a slew of notable Jazzmen–including: Michael Brecker, John Abercrombie, Kenny Barron, Chick Corea, Mike Stern, Art Farmer, David Samborn, Grover Washington Jr., and many others.
Talk about a multifaceted musician, Harvie's songwriting skills have been well documented, having written over sixty original composition which have been recorded by various artists, including a 14 year association with vocalist Sheila Jordan which have set a standard for bass and voice duos. Along with his performance endeavors, Harvie S has also carved an impressive career as a Jazz educator at the Manhattan School of Music since 1984, as well as conducting Jazz clinics worldwide.
Lately, Harvie has taken a keen interest in Latin rhythms thereby enhancing his musical arsenal. Along the way he has performed with Pucho and the Latin Soul Brothers, Annette A. Aguilar & Stringbeans, Paquito D' Riviera, Bobby Ramirez and other local Latin Jazz bands in New York. Already, Harvie has released his debut Latin Jazz CD on the Bembe Records label titled "Havana Manana" which received excellent reviews. On his latest CD "New Beginning", bassist Harvie S takes another giant step forward in solidifying his place in modern times as a paramount musician.
This CD boosts a crew of musician which perform as part of his band Eye Contact–including guitarist Bruce Arnold, pianist Daniel Kelly, drummer Adam Weber, and percussionist Renato Thoms. Adding to this excellent lineup of top-notch musicians are special guests saxophonist Michael Brecker, Ray Vega on trumpet, guitarist Haru Takauchi, and violinist Gregor Huebner. Except for track 5, all compositions were written by Harvie S.
Right from the onset, Harvie S establishes his bold acoustic bass sound on the title track "New Beginning." The rhythm is a contemporary groove with opening solos by guitarist Arnold and nothing less than a monster solo by Brecker. Things get really heavy on the next track "En La Batalla" as the band starts to cook some sabroso Latin Jazz grooves with Harvie displaying enormous agility on his acoustic bass solo. Daniel Kelly also explodes with a great solo that swings. Next, the band switches gear and touch on swing rhythms on "Chump Change." There's a most interesting part to this tune where the drums maintains a Jazz swing beat while Harvie interposes a Latin tumbao groove on the bass. This sounds amazing and innovative especially when Renato adds an intense solo on the bongos; clearly one of the best tracks on the CD.
The next track "Luna Romantica" has a slow bolero feel and features some nice interaction and harmonies by violinist Gregor Huebner. Also worthy of mention is the great brush work by drummer Adam Weber–very tasty. Towards the end of the composition the beat turns into a cha cha guajira groove; then enters trumpeter Ray Vega with a fine trumpet solo.
"African Heartbeat" has a 6/8 Afro-Cuban Jazz beat featuring great counter-melodies carefully overlapping a towering bass groove, as well as another intense violin solo, and climaxing almost like a rock symphony of Afro-Cuban Jazz polyphonic rhythms. Pianist Daniel Kelly demonstrates some impressive Latin Jazz chops on "A Bright Moment" amidst an impeccable groove by Harvie and his rhythm section.
Brecker and Vega return to interact and trade solos on "From the Ashes." Percussionist Thoms adds some colorful nuances that highlights a slow guaguanco Afro-Cuban groove in "Tres Mundos." The session ends with a tune that has a hard Rock new age musical texture sounding more like a "Jimmy Hendrix Experience" meets Afro-Cuban rhythms, a nearly ten minute odyssey titled "Mothership."
This CD is undoubtedly on the cutting edge of Latin Jazz in today's music scene. Not only is Harvie S an amazing technician on the bass, performing with power, passion and poise, also demonstrating unparallel command of the Latin grooves; but, his compositions show extraordinary authenticity within the genre of contemporary Latin Jazz. All of the musicians, especially the rhythm section, are well versed on the intricacies of Latin rhythms and execute their parts with great passion, evenly and with precision.
Drummer Adam Weber sounds tight and in the pocket along with percussionist Renato Thoms. Pianist Daniel Kelly shows great character and depth adding some fantastic solos–definitely a talent to watch.
But clearly, the cornerstone of this CD is Harvie's fearless acoustic bass sound–always there and everywhere holding all of the pieces together, the catalyst that sets the wheels in motion, a massive unsinkable vessel navigating in deep uncharted water exploring the outer boundaries of Latin Jazz. From start to finish, this CD is a smooth and pleasant listening experience. As evident on this CD, Harvie S has a clear musical vision of the future direction of Latin Jazz. "New Beginning" with Harvie S & Eye Contact is well recommended–a must-have for music fans of Latin Jazz.
---
Harvie S: Cocolamus Bridge
By Raul D'gama Rose
LatinJazzClub.com, October 2010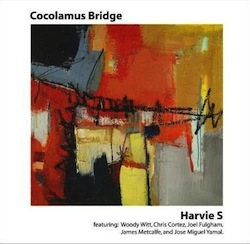 The re-imagining of a traditional Irish ballad, "Eili Gheal Chiuin," does more than define the breathtaking skills of bassist Harvie S, as he takes wing on Cocolamus Bridge. It sets him apart as one of the very few virtuoso bassists of today. He has courage way beyond the narrow definition of the word, and has a fecund mind that is continually searching for new horizons towards which to stretch, taking with him a bass violin that sings with almost limitless possibilities. As unique as the solo bass choir of the Irish folk ballad is, it is just one facet of S' staggering talent: that of the unbridled soloist; making his bass sing with almost human facility is another.
Perhaps S gets that from his years in a duo role with legendary vocalist Sheila Jordan. It was, after all, Jordan who all but drove the bassist to play twin to her soaring bebop vocals. On "Cocolamus Bridge" the bassist provides a brilliant showcase of the voice-like sound of his instrument, which he explores in almost every tenor possible. He imagines lines that make great leaps across the soundscape, darting this way and that, zigzagging and flying in colorful whorls, and sometimes he underlines the harmony with a gravitas that recalls Charlie Haden's thunderously stuttering pizzicato. Like Haden, he makes the strongest showing in the very simplicity of his harmonic approach to the art of the song.
Harvie S can also undertake a complex course in the music. He plays a dramatic, contrapuntal role in "Courage," a decidedly abstract piece that seems to race along in the beginning almost as if it was mimicking a militaristic charge, while in "Coco Loco," he is puckish, prancing about the tune with child-like abandon. The triads that dapple his rendition of Wayne Shorter's "Night Dreamer"—not as close to the original as it might appear—especially in the solo, dart off from the beginning of a solo line that is brilliantly followed by dark notes in the low register of his bass, as he growls and grunts his way through the piece's edgy mood in tonal counterpoint to the shrill meandering of Woody Witt's soprano saxophone.
"To Bea" is a delightful and spritely dedication to Harvie S' mother, and features the bassist dancing around the piano line as he builds up towards a harmonically rich solo. This is followed by the guitar down low, as it is heard so often on the album. But the song has a Bossa Nova slant, and here, S shows his grasp of the swaggering rhythm, as does the percussionist on the date, James Metcalfe. "Ike (Take a Hike)" is inclined towards the Afro-Cuban danzon, but displays a similar shuffle as the song dedicated to the bassist's mother, before "Time and Beauty" returns the music back towards the abstract.
---
Sheila Jordan/Harvie S: Yesterdays
By Christopher Loudon
JazzTimes April 2012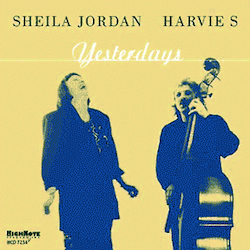 For as long as she's been singing, Sheila Jordan has had a predilection, rather unique among vocalists, for seeking out bass players as solo accompanists. Early on, when married to Charlie Parker's pianist, Duke Jordan, she'd often practice duets with bassist Peter Ind. And in a particularly famous instance, Charles Mingus once invited her onstage to join him on "Yesterdays." Jordan has even theorized that she might have been a bass player in a former life.
In this lifetime, the recently crowned Jazz Master's longest-running partnership with a bassist was her 14 years, from the early 1980s through the mid-'90s, with Harvie Swartz (now known as Harvie S). Together they recorded three studio albums. Excellent as they are, Harvie was never satisfied with them, citing inferior recording conditions. He sees the release of this early '90s live date (at an unspecified location) as vindication.
On these 12 tracks, Jordan is in exceptional voice and form—coy, playful and improvising up a (subtle) storm—and Harvie responds in dazzling kind. Though Yesterdays is best experienced as a whole, it is impossible not to single out their "Lazy Afternoon," of which a more keenly intuitive rendition does not exist.
Also see review on SeattleTimes.com
---
Too Late Now By Harvie S Trio
By Suzi Price
JazzReview.com March 2010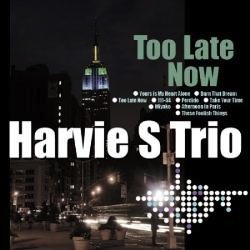 Approximately 23 years ago, Harvie S received a telephone call asking if he would be willing to play bass for a new, young musician performing at the JVC. Harvie has always been in demand both here and abroad, and he accepted the offer.
The festival went off without a hitch and over the following months, that young musician, pianist Bill Charlap, and Harvie S became friends. And as friends and musicians, they did what came naturally, played their instruments, jammed together and explored mutual, musical possibilities.
Charlap had introduced Todd Strait (drums) to Harvie and as luck would have it, Harvie had some studio time and suggested they go in and lay down some tracks. Discussions regarding what songs to play and a brief rehearsal ensued. Then history was made, although they didn't realize it at the time.
Harvie S, being the oldest of the three, put this trio together and produced this CD. Bill Charlap was only 20-years old, and Todd Strait was 26. The remarkable thing is this studio session was probably the very first recording ever made of Charlap who is now considered to be one of the best jazz pianists of his generation.
Too Late Now is almost an inappropriate title for this Harvie S Trio CD because it is never too late for truly exceptional jazz…and that is exactly what this is, exceptional from start to finish. It is however, the title song included in the nine tracks of the album.
Within the first ten notes of the beginning track, an unbelievably tight, up-tempo Franz Lehar tune, "Yours is My Heart Alone," you understand immediately there is something going on beyond piano, bass and drums. There are no egos here, just a solid stream of honest interplay between three outstanding musicians. And what's even more astounding is the trio sounds like they are seasoned veterans who have been playing together for years, yet their energy and simpatico is so fresh and new. Perhaps that's the secret. In any event, this opener is phenomenal, the best of the CD.
Song placement is so important in the ebb and flow of an album, that's why Van Heusen's "Darn That Dream" is a beautiful choice for second position. Its dreamy gentleness allows the listener to catch their breath after the opening number. Other selections include Burton Lane's "Too Late Now," the extremely rare Oliver Nelson's "111-44," and Juan Tizol's "Perdido."
The sixth spot is one of Harvie's own compositions, "Take Your Time." Anyone that is familiar with Harvie S. can always count on his originals being A-1. This particular song, among my favorites of the album, is a sexy, little, swinging romp sans 50s style, that showcases the trio's playfulness. Todd's rhythmic patterns fit so perfectly, lending this song its hip attitude.
An outstanding arrangement of Wayne Shorter's "Miyako" is stunning with Harvie offering a brilliant solo on bass and Charlap is fantastic throughout. John Lewis' "Afternoon in Paris," an infrequently performed number is esoteric at first blush, with tasty changes mid-way that has your foot tapping until the ending note. The final dish is the Jack Strachey/Harry Link song "These Foolish Things." After listening to the full meal, this soft and familiar tune is the perfect dessert.
After finally releasing this 1988 recording session, one that Harvie thought might never get released, I asked Harvie what he thought about doing a present day follow-up to this CD with Charlap and Strait. His reply, "Wouldn't Mind." Certainly after listening to this brilliant piece of work, listeners might agree.
---
Harvie S with Kenny Barron: Now Was The Time
By John Barron
AllAboutJazz.com October 2008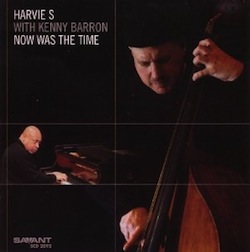 Bassist Harvie S has worked with a who's who of jazz artists, including saxophonists Stan Getz and Michael Brecker and vocalists Sheila Jordan and Mark Murphy. As a leader or co-leader, S has recorded extensively, most recently in the Latin-jazz realm with Funky Cha (Zoho Music, 2006). Now Was The Time, a previously unreleased session from 1986, is an extraordinary, straight-ahead duo recording by S and pianist Kenny Barron. Aside from S's original "Take Your Time," the repertoire consists of standard fare performed with the kind of vigor one would expect from these two veterans.
With a duo partner as responsive and giving as Barron, S seizes the opportunity to showcase upper-register melodic flair, singing out familiar themes like "Body And Soul," "Isn't It Romantic?" and "All or Nothing at All." The bassist's horn-like, bebop-based phrasing is as engaging as it is inventive. His virtuosity is on full display as he manipulates the limitations of four strings on "Darn That Dream," done as a spirited waltz, and the Wayne Shorter ballad "Miyako."
Barron is allowed plenty of solo space to demonstrate his chameleon-like approach to jazz piano. With hard-swinging single-note lines ("Confirmation," "Take Your Time" and "Darn That Dream") and poignant phrasing ("Body and Soul," "Miyako"), the pianist glides through the session with assured ease.
S ends the disc with a solo-bass rendition of Billy Strayhorn's "Chelsea Bridge," utilizing blistering runs, double stops and chords, leaving no doubts about his stature as one of the preeminent bass voices in jazz today.